Mount Of Temptation
The Gospels say that after Jesus was baptized, the spirit led him into the wilderness, where he fasted for forty days and forty nights on the Mount of Temptation. He was tempted three times by Satan who offered him all the riches and glory in the world. But Jesus was not tempted and said 'Out of my sight, Satan!' Then the devil left him.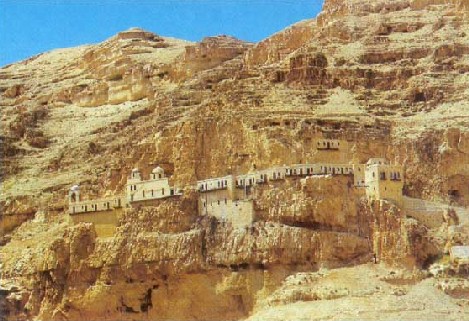 The Mount of Temptation (also called Mount Quarantal) is a tranquil place. Its summit, seven miles northwest of Jericho, has a panoramic view of the Dead Sea and the Jericho valley. Jesus spent his time here in complete isolation. He could get away from it all and just sit, think and meditate, for forty days, deciding and maybe agonising over what course of action to take. He knew his moment had come. He could have led a revolt against the Romans. He had plenty of followers. If he was successful he could have been the next king of the Jews. But Jesus decided on an unarmed campaign and this was to put him on a collision course with authority.
Today, the thirty or so caves on the eastern slopes of the mountain are inhabited by monks and hermits who have been here since the early days of Christianity. A Greek Orthodox monastery has since been built half way up the hill close to the site of these caves.