The accuracy of the Piri Reis map strongly suggests that someone had the technology to undertake an accurate geographical survey of Antarctica over six thousand years ago! In fact the accuracy suggests that the original map makers new the circumference of the earth to within 50 miles! But who were these map-makers that existed along time before the 'age of exploration'?
Piri Reis drew this famous map in 1513 onto a gazelle skin. It was found in 1929 in the library of Imperial Palace of Constantinople. Here, the well-known character Piri Reis, an admiral in the navy of the Ottoman Turks, had special access to maps and documents stored in this library. Piri Reis, who had a passion for cartography, tells us his role was that of a compiler and copyist, and that the map was drawn from a large number of source maps - perhaps up to 20. Some were from contemporary sources - including Christopher Columbus (the South American part of the Piri Reis map). Others dated back to hundreds of years BC - perhaps these were created by the great seafarers in the ancient world of - the Minoans and Phoenicians. But where did they source them from?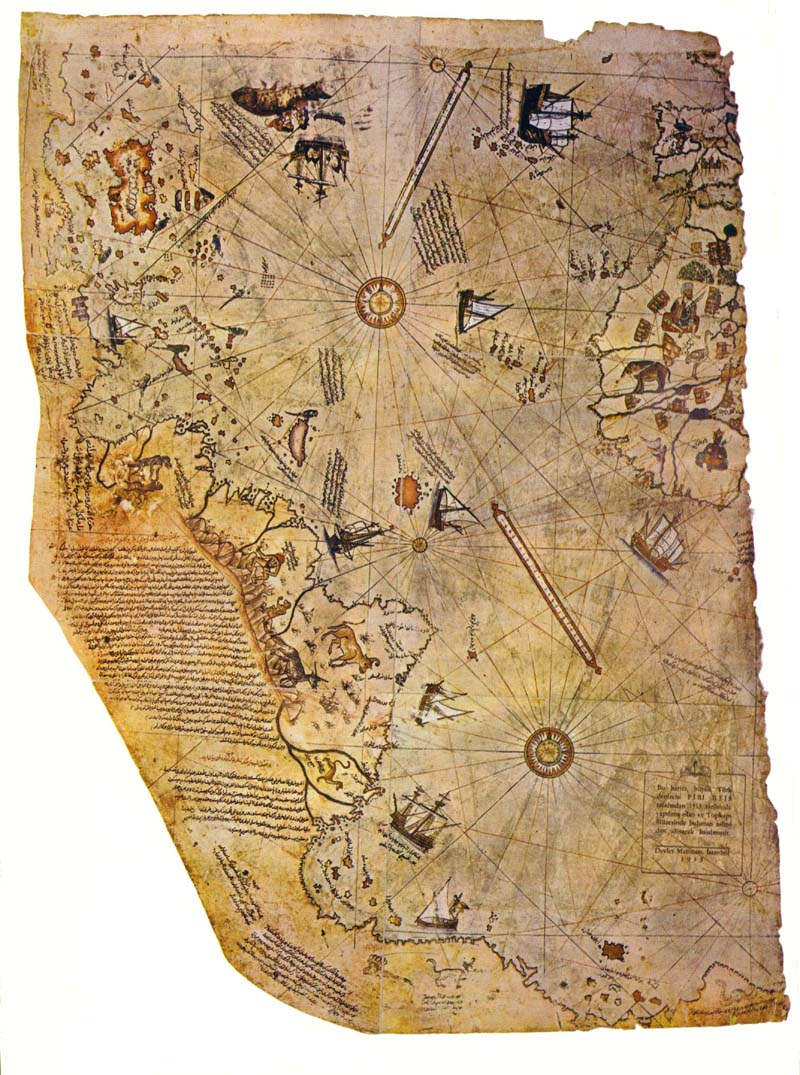 Piri Reis Map
The Piri Reis map accurately depicts the subglacial topography of Queen Maud Land. About six thousand years ago the advancing Antarctic ice sheet covered this part of the continent and it has remained hidden from view ever since. In 1949 a British-Sweedish scientific team revealed the topography in a comprehensive seismic survey. But who were the original cartographers over six thousand years ago?
Is this the legacy of a lost civilization? Is it possible that the earth has been comprehensively mapped by an unknown and undiscovered civilization which had developed the technology to do this?
However it should be noted that studies on the glacial history of Antarctica indicate that the northern part of the continent was not recently ice-free. In fact an abundance of evidence including ice core data demonstrates that all of Antarctica was covered by a fully developed ice cap for the last 40,000 years. Reference Denton et al. (1991) and Marchant et al. (1986).
Also, the sheer weight of the ice on the surface of this part of Antarctica has depressed the crust by hundreds of meters. If the ice was removed, isostatic rebound would therefore raise the topography by hundreds of meters in the interior and perhaps a hundred meters along the coastline. And the melting of all this ice which was removed would raise the sea level by tens of meters. So an ice free Antarctica today or thousand of years ago would not resemble the topography we see today using seismic surveys and by implication it would also not resemble the map of Piri Reis.